Auto Suspension Servicing in Dallas
8/23/2022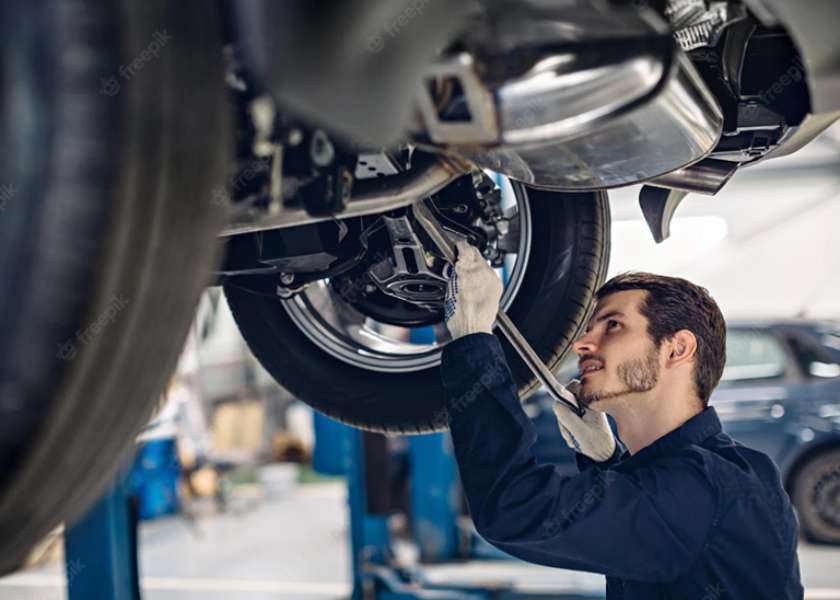 Your car's suspension system is responsible for ensuring a smooth ride. Even while driving over bumpy roads and potholes, a sound suspension system can help minimize shocks. Moreover, a solid suspension can also increase steering control.
Signs You Need Auto Suspension Servicing
Over time, your car's suspension system may wear out and need maintenance. Not only should you get professional suspension servicing, but you should get your car's suspension inspected if you notice any of the following problems:
Difficulty or problems with braking
Over time and with use, you may notice that your car's brakes are not performing like they used to. It may take longer for your car to come to a complete halt when you break, or your car might not accelerate at the same rate as before. This may be a sign that there is a problem with the suspension system.
Squeaking and other unusual noises
When you drive over a bump or a pothole, you can expect some turbulence and shock, but your car should not be making excessive noises or squeaking too much. If your suspension system is not working, your car will not be able to absorb the shock from uneven road conditions, leading to unusual and increased noises.
Too much bouncing
While your car's suspension allows the car to bounce to reduce shocks, too much bouncing can be a problem and a safety concern. If you notice more bouncing than usual, you probably need suspension servicing.
K3S Auto Repair - Dallas Auto Repair Shop
If you're looking for auto suspension servicing in Dallas, Texas, then K3S Auto Repair is the company for you. K3S has been in the auto repair business for almost a decade since 2013, which means that you can rely on their experience. Their ASE-certified technicians and repair professionals are trained to use the latest and best diagnostic tools and repair equipment.
K3S Auto Repair offers several different auto-related services, including but not limited to suspension servicing. Various services are required to keep your car running to its optimal level. Some of these services that K3S offers include:
Suspension - we already discussed the importance of maintaining and servicing your suspension system in order to ensure safe and comfortable driving.
Transmission - the transmission system can be complicated and requires the work of professionals to ensure that it runs smoothly.
Brakes - functioning brakes are essential for any car and ensure your safety while driving. Whether you need to replace your brakes, need brake fluid, or just need an adjustment, K3S has got you covered.
Oil Change - clean oil ensures a healthy engine for your car. Oil changes are required frequently and can greatly affect the quality and health of your engine.
K3S can also help you with clutch servicing, battery charging and starting, cooling system maintenance and servicing, drivetrain servicing, HVAC servicing, and more.
Get in touch with K3S Auto Repair by visiting their website or calling 818 934 6192. You can also visit their site, which is located at 11038 Grissom Lane, Dallas, TX, 75229. The site timings are 9 am to 6 pm every weekday.